Interviews with Travelling Companions
Arlene Dahl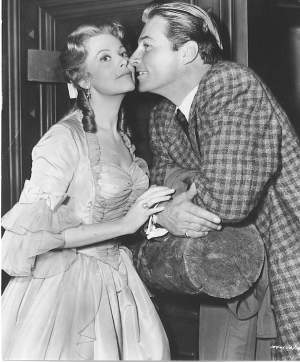 Lex Barker was married five times. Although his second marriage with his colleague Arlene Dahl turned out to be the shortest, the relationship cannot at all be described as unhappy. The careers of the two Hollywood stars and the changing studio systems of the 1950s in Hollywood didn't allow for a longer family life.
With her titian-red hair, Arlene Dahl counts among the most attractive actresses of the motion picture city, promotional slogans describe her as: "the most beautiful woman ever seen in a movie". Her talents, however, are not restricted to the (superficial) beauty on screen and stage. After authoring eighteen books thus far, the versatile artist and mother of several children distinguishes herself through her columns on beauty and astrology for daily newspapers, as well as her talents as a businesswoman outside show business.
Arlene Dahl grew up in Minneapolis, Minnesota. Her parents were both Norwegian and Arlene speaks and also writes that language. While still very young, she went to work at her hometown radio station, and later, via Chicago, arrived in New York. While she participated in a Broadway musical, Arlene Dahl was discovered for the motion pictures. She acted alongside Van Johnson, Dennis Morgan, Red Skelton, Robert Taylor, Rock Hudson, Bob Hope, and Fernando Lamas. She impressed the directors with her talent for comedy, and on top of it was then, and still is very photogenic.
The actress is socially active in New York and is presently writing her autobiography, planned for publishing in 2008.
The following interview was conducted in 2007 and is published here for the first time.
Mrs. Dahl, you and Lex Barker were part of "classic Hollywood", the studio system. When you look back at it, what memories do you associate with that era?
Hollywood was glorious in those times — glorious, glamorous, and magical. The studio system spoiled actors and actresses under contract. Metro Goldwin Mayer (M.G.M.), of course, was the leader of the pack. They spoiled all of their contract players, and all of the stars and co-stars. And Lex, I believe, was under contract with R.K.O. Lex got spoiled at a smaller studio.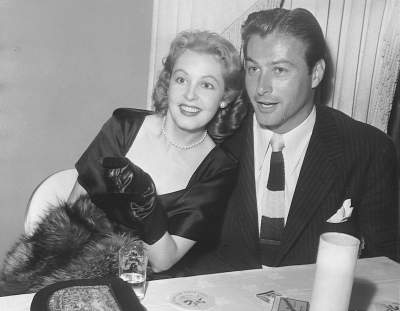 In some reports it was claimed that M.G.M. cancelled your contract because you married Lex Barker...
No, absolutely not. The break with M.G.M. came because L.B. Mayer, who was my mentor, left the studio. Dore Schary replaced him. And Dore Schary was what we knew in Hollywood terms as a "kitchen sink" mentor. He came from R.K.O. He was a writer and made black-and-white films. But Cinemascope, Technicolor and Musicals were not part of his genre. I made three black-and-white films, which Mayer said I shouldn't do. But nevertheless, Dore Schary put me in them. I asked my agent to get me out of my contract, which she did. It happens. It collided with my marriage to Lex. When I came back from my honeymoon in 1951 with Lex, Mayer had been fired.
Let's go back to the beginning of your career. You're originally from Minnesota. Do you have an artistic vein?
Well, I was always interested in portraying other people, as well as myself. From the time I was a small child.
With regards to your beginnings in show business, there was a group called Hollywood Review...
The woman who lived with us, our maid at the time, was also interested in that business. I was taking dancing and singing lessons. She put the girls whom I was dancing and singing with into a review called the Hollywood Review. We'd work on weekends, in different clubs to make a little extra money.
How did things develop from then on?
I was on a radio show on Saturdays together with a little boy who was about my age. It was called Doctor Bob. We "visited" different places in the world and our audiences loved the broadcast. I also took part in school plays, and in musicals. Then I went to Chicago where I worked as a model.
Your parents were both Norwegians...
Yes, but they separated and when mother died, I moved back to my father. I had graduated from High school when I was fifteen and intended to go to the University of Minnesota. When my father re-married my stepmother did not want me around. She made it possible for me to go to Chicago. [laughs] There I was, working as a model and living with three roommates in Chicago. They worked with me also in the Sportsman Show in Minneapolis. I was a model in Chicago for a month or two, and assistant buyer. And it was my boss who took me to New York for the first time as a buyer. During my trips to New York I had some time off. I bought a newspaper, Variety, which wrote about the musicals on Broadway. I had studied musicals and singing at the Minneapolis College. And, so I went there on occasions, out of the blue. [laughs] I don't know what made me do this. But I did it. I decided to take a chance. I was in New York, so why not? I got up and I sang... and I got the part. I got a principal part on Broadway in that musical Mr. Strauss goes to Boston.
And that's where you were discovered for the motion pictures...
Jack Warner discovered me. I came to Hollywood to make a screen test for Warner Bros. after Jack Warner had discovered me during the opening of the musical. I got a very interesting part, in which I was going to sing again.
Hollywood wanted you to appear in color movies especially, to accentuate your red hair...
[laughs] Yes, L.B. Mayer didn't want me photographed in black-and-white at all at the studio. Most of my films were then in Technicolor.
Life with Father (1947) was the movie right at the beginning of your filmography...
No, it was not. I think the publicity department of Warner Bros. wanted to put me in something, to announce that I was under contract to Warner Bros. and I would be in a film called Life with Father. But Jack Warner said: 'No, I don't want her in Life with Father. I want to introduce her in a bigger film, in Technicolor.' That movie was My Wild Irish Rose. Three months after I signed my contract I played the lead, Rose, in My Wild Irish Rose (1947).
You began with a lead role?
Yes, my debut as an actress and a star in Hollywood was playing the lead opposite Dennis Morgan. I did not appear in Life with Father.
How would you describe your contact to Jack Warner?
It was business contact only until I left for M.G.M. He would never have social contact with the performers who were under contract to him. It was only after I was under contract to M.G.M. that I was invited to his house for dinner.
During that time you didn't only appear in color movies. Ambush (1949) for example, was a western in black and white.
Yes, after that Mayer said that he was looking for Technicolor pictures. Ambush was the last film by director Sam Wood. He died shortly thereafter. The location on that film was very difficult. And he was not a young man. The film was shot outside of California in Utah. But I didn't go on location. I only filmed on the sets at M.G.M.
You filmed together with Robert Taylor. What kind of experience was that for you?
Oh, it was fantastic. He was such a wonderful gentleman. I told him that two years before, when I was in high school, I had written to M.G.M. asking for a signed photograph. Now I'm playing his leading lady. We both had a good laugh at that. And the next day in my dressing room there were two dozen yellow roses, which were my favorite flowers, and a special signed photograph of him with very nice sentiments in a sterling silver frame.
One further step up on the ladder of success was the musical Three Little Words (1950)...
Yes, that was wonderful. I think Fred Astaire had a lot to do with that. I hadn't sung yet. Even though I'd been on Broadway I hadn't sung in any musical. Actually I thought when I got my first part in the film with Warner Bros. that I certainly was going to sing. But Dennis Morgan had all the songs. So this was my first musical after leaving Broadway.
You have some beautiful songs, such as I love you so much or You smiled at me. Were the musicals always special to you?
I wanted to be a musical comedy actress on Broadway. When that was impossible, I embraced the fact that I could sing and dance in films. I appeared at the Palace Theatre on Broadway. I finally realized that my dream I had as a child in Minnesota had come true.
When you left M.G.M. you starred in many colorful adventure movies such as Caribbean (1952), Sangaree (1953), and Jamaica Run (1953)...
I was very dejected when L.B. Mayer left M.G.M. because he was my mentor. I asked my agent, a fantastic agent in Hollywood, to get me out of my contract and he got me a three-picture-deal with Paramount.
Were these exotic adventures all made entirely in the Hollywood studios?
Correct. The only adventure that I had outside the studio was when I did The Outriders (1949) with Joel McCrea. We went to Kanab in Utah. Unfortunately there were only cameramen who went there to film the background [Paramount productions], but the actors stayed in Hollywood.
I'm sure you can tell a few anecdotes around the shooting of these films?
I'm saving these for my book. I'm writing my own autobiography.
I can understand that. We look forward to your memoirs. Do you realize that those Paramount pictures are still shown on German television?
I get a lot of fan mail from Germany, from Russia and all the places in Europe and of course from South America.
Is Lex Barker's name mentioned in the fan mail?
Absolutely. They thought we were the "ideal" couple.
One of the headlines in the 1950s said: The most beautiful woman ever seen on film...
I don't know who pushed that in the trade papers or the newspapers. That was not what I thought...
But there is a lot of truth in that...
Well, it's an endearing term. And I don't believe it! But it's a very nice compliment.
What else can you tell us about your film partners, for example Bob Hope?
Bob Hope was very funny to work with, very supportive. He taught me how to take a "cat nap" and tried all of his funny stories out on me. He had a television show and used the jokes on me. And then he told me how to relax in between setups. He said: 'I don't sleep well at night, so I've learned to take cat naps.' I asked: 'What is a cat nap?' We were sitting next to each other in our director chairs. He said: 'You just close your eyes, but your arms rest on the chair. Unfold your legs.' It was a Yoga-like trance that he went into. 'Relax.' He described how he concentrated on his legs, and gradually moved his concentration up his body. He let his body relax, let the tension out, and was asleep. He had his director's assistant who woke him up five minutes before he was supposed to be on set. He taught me how to do these exercises. And I can take a brief nap, five or ten minutes, and feel rejuvenated. And that's what I learned from Bob Hope.
Interesting! What about Rock Hudson?
Rock Hudson was like the brother I never had, you know. He came from a Swedish background. We would talk, off the set of course, in Scandinavian, up and down and up and down, and with an accent. He had a wonderful sense of humor. We laughed very much on the set of Bengal Brigade (1954).
Did you meet John Wayne?
Oh, of course! He was very nice. He had a drawl that he didn't save just for the movies. He actually spoke that way in real life.
It is common knowledge that you and Lex Barker were very close to Gary Cooper and his wife Rocky...
Yes. Rocky was very sporty. I saw my first tennis match with Rocky and Lex. It was at the Country Club in Studio City.
You made many other friends in Hollywood?
Fred Astaire was a good friend, and Clark Gable and Joan Fontaine. I mention all of them in my book.
After Lex Barker you married another colleague, Fernando Lamas. His South American temperament would have been completely different to that of Lex...
Yes, he was known for being bombastic and temperamental. But Lex was not always easy going either. Lex had a temperament as well, but different. It would take a lot to get him angry but when he got furious, he "visited Mars and Jupiter". Everything was forgiven after that. It took him a very short time to forget and forgive. Fernando liked to slam doors.
Did you visit Fernando's homeland Argentina with him?
I went to Argentina, but only with his son Lorenzo and my daughter Carole because Fernando was not allowed to return to the country. He had an affair with Eva Peron, the wife of the dictator. It was a short affair because when Eva's husband found out about it, he wouldn't allow him back in the country. He came to M.G.M. for a screen test, which I made with him. They decided to sign him. Otherwise I don't know where he would have gone. Probably Mexico.
There is an interesting segment with you in the television series Lux Video Theatre: Casablanca...
Yes. That was originally made for Co-star Records. They took it off for a performance for Lux Video Theatre. I played the Ingrid Bergman role from the movie.
During 1956 and 1957 you made two films in England. How did that come about?
That was the time when actors and actresses liked to work there because they got a great deal with their money without having to pay American tax. For tax reasons a lot of the stars went abroad for these movies.
Both your films were excellent crime thrillers...
Yes, with the best directors. My best part was in Wicked as They Come. That was the best role that I think I ever had in movies. But it was a black-and-white. Both of these were in black-and-white. They didn't believe in color in Europe. Those kind of movies that were mysteries... they liked to shoot them in black-and-white.
You starred in Journey to the Center of the Earth (1959), a big production...
We went on location for three months to "the center of the earth", to Carlsbad Caverns in New Mexico. I had a part not only with James Mason and Pat Boone, but also with a duck named Gertrude who had two understudies. The duck got tired so we had to rush in another duck. That was a very tough shoot, because I had just given birth to Lorenzo. He was about six months old. I left him with a nurse, who had originally been our cook. I hated to be away from them for such a long time but I kept in touch, of course with telephone and so forth. That film wasn't an easy shoot. It was dirty, and difficult also to tread down every day to "the center of the earth". And then up the mountain — it seemed like a mountain anyway, coming up from "the center of the earth". And I almost lost my life — I was hit by one of these big water "sloppers". That was when we came back. We did a scene at the 20th Century-Fox studio. They had rigged up 25 gallons or 50 gallons of water. They were supposed to hit my back with the water and instead they mistimed and hit me in the face and I got a bit washed. It was quite a scene! My grandchildren all loved that film.
During the 1960s we saw you less on screen, but more on television and on stage. You also had a show in the famous Las Vegas Hotel Flamingo...
I sang and danced. I retired [from the movies] to be the star in the Flamingo with three boys. I became the fourth boy. We did a motorcycle song and other things. Life magazine photographed me. It was a big success. I was there for four weeks. I don't gamble and it wasn't something that I really wanted to do, but my daughter and Lorenzo came up to visit on weekends. The nurse would bring them to Las Vegas. I loved working with the boys — I loved working on the stage. But during the day it was dreary because I didn't gamble. And there wasn't anything else to do. Now they have everything in Las Vegas and families can have a good time. I could have my family with me if I had to do the show today. During the time I was working in the Flamingo there was nothing to do if you didn't gamble during the day. I wrote my columns. Three times a week I had a beauty column that appeared in over a hundred papers. My secretary used to fly up and we did my columns together. That's about the only thing that I could do.
Did you at least encounter Frank Sinatra in Las Vegas?
Oh yes, but I knew him before that. And, of course, Marlene Dietrich was there. She was there at one of the hotels. Sammy Davis [jr.] was there. They all came to my dress rehearsal, and of course I didn't know that it was a custom in Las Vegas for the headliners to come to a newcomer who was opening in Las Vegas for the first time. So they were in the audience, and I couldn't see them, because the light was on me, not on them. I knew that the producers had invited some people to see how it went. But I had no idea that all these great stars were there. And when the lights came on, I almost died. There they were, Dietrich, Sammy Davis, the Rich Brothers and the others. It was unbelievable. It was like a family. They all gave me some tips. Sammy Davis told me he wanted to review a chat number, then he showed me something better. The boys and I rehearsed the chat number that Sammy Davis gave us and we put it into the show. And he was right. And Dietrich reviewed the entire show. We walked through the entire act with Dietrich in the box, working with the light men, because she said that these people didn't know how to light red hair. She said, 'Your red hair doesn't show up at all with these lights.'
You knew Marlene Dietrich from Hollywood already?
I had only met her once or twice before at Paramount during wardrobe fitting. She did many films at Paramount. So we met at the dressing room and became friendly. She reviewed my show like the best friend I ever had. She was not known to like women all that much. She was more a men's woman.
During the past few years you have appeared in diverse television productions such as Love Boat...
I also did a soap in America. From 1981 to 1984 I was with the ABC on One Life to Live. I was playing a character from Dallas with a southern accent. We were filming every other day for four years like they do for the Mexican telenovelas. They are very popular in America. You shoot a whole hour in one day. It's very difficult work, but I enjoyed it, because I enjoyed playing these characters.
Apart from your film work, you have also designed fashion and even created perfume?
Yes, I had a fragrance, which I called Dahlia. That was launched in 1976.
...and wrote many books?
Yes, I was writing books and was very busy. My first book came out in 1965 and the title was Always Ask a Man.
From time to time you appear in television shows like Larry King Live...
I have done three or four Larry King Live. Last Friday night I was honored for my work in motion pictures. It was a very big thing with about seven hundred people there.
It's great that your motion pictures have not been forgotten!
Well I get over a hundred letters a month from around the world, sometimes two to three hundred that I answer personally.
What are your thoughts about today's Hollywood?
I think Hollywood has lost its glamour. The young movie actors and actresses coming up, they are what Dore Schary would have called "kitchen-sink" actors and actresses. Meaning they're at the "kitchen-sink", they dress as if they were washing dishes in their jeans, in their T-Shirts, they don't wash their hair, don't pay any attention to how they look. Or they wear only underwear. It's just appalling what happens. I wish for the old Hollywood to come back. So that all the would-be stars would learn how to act, would learn how to conduct themselves in public and respect themselves more.
Your son Lorenzo is also an actor. You must be proud of him?
Very much so. And not only proud of him with what he accomplished, you know, he is a television star, but he has also made movies, of course. I am also proud of him as a father. He has three little girls so he can't stop working because he has to support them. One is four, one is six and one is eight years old. And he sees them every weekend, takes them here and there. He is such a good father. I'm really proud of him! Last November he opened with his first singing engagement in New York. His reviews were fantastic. He had such a wonderful time. The critics compared him to Dean Martin, Julio Iglesias and Hugh Chapman. He is receiving some offers from Broadway; also for more singing engagements. So I'm very happy.
In the meantime Christopher Barker is no longer in show business...
Yes, unfortunately. If he lived a little bit closer I would approach him about keeping up his singing, because he has such a beautiful voice. I introduced him to a voice coach when he was very young because he told me he loved to sing. And I said: 'Well, if you sing you have to learn how to produce the sounds that you want to hear.' I introduced him to the first coach who trained him in classical arias because he has a voice for opera, it's very strong. He's a wonderful boy. Christopher made three compact discs, but not the kind of discs that I wanted him to make, which were the German operetta and musical comedies. If he sang them I would be proud about that!
Do you believe that he'll make a comeback one day?
I have no idea. I keep asking him: 'Are you exercising your voice?' He says: 'Yes, when I have time to do it.' I'm not sure if he has enough time to do it. But I'm always there asking. I hope he will make a comeback.
Getting back to his father: there were plans to make motion pictures together...
Yes, we were reading many scripts that we thought we might do.
...and films like Colonel Blood or Fire over Africa...
Fire over Africa was made with Rhonda Fleming. But the first choices were Lex and I. But I was making another film at Paramount. I couldn't do it. And Lex had another film that he was doing with Sol Lesser. They didn't want to wait for us. So they re-casted.
What do you think about Tarzan?
I thought it was fabulous that he was Tarzan. He got me exercising with him every day. He had a fabulous physique, he was very proud of it and he worked a lot to keep it that way. I didn't see him in the studio as Tarzan and I couldn't go to be with him in Africa because I was making films under contract — I had just signed a contract with Paramount. When he came back I was filming every day in the Paramount studios. All of this worked against our marriage.
Looking at the book Tarzan and Hollywood you saw many familiar faces again. What can you say about producer Sol Lesser?
Sol gave Lex a bonus that he could use for his honeymoon. Sol Lesser was not very generous with his contract with Lex. I never asked Lex how much he was making. He certainly wasn't making a lot of money, even though he was the star of Tarzan. Sol Lesser was not very generous that way, but because of all the publicity and everything he gave the bonus to Lex to use for the honeymoon, which I thought was very nice, of course! But I met Sol Lesser on various occasions. He never gave parties or anything like that, he was a businessman. The bottom line was the most important thing for him. Lex wanted me to go with him to Africa. I don't know if Sol Lesser would have picked up the tab or not. It never came up because I was just put under contract for three pictures to Paramount and one of them started almost immediately. I never had a chance to go to Africa. I think had I gone to Africa we would probably still be together. Who knows? That's life!
Have you ever met Johnny Weissmuller?
Oh, yes...
How was he different compared to Lex?
Completely different. The only thing they had in common was the great physiques. But Weissmuller was not as social as Lex. He didn't go out very much. He was a very nice man, but he was not very social. And he didn't go to the big Hollywood parties and so on.
The last question: what place does Lex Barker hold in your life today?
I only have to close my eyes and I can hear his voice in my mind. Lex is already and always a part of my life.
Thank you for the interview.
Reiner Boller (interview & voice transcript) 2007
Part translation & transcript edit Marlies Bugmann 2007